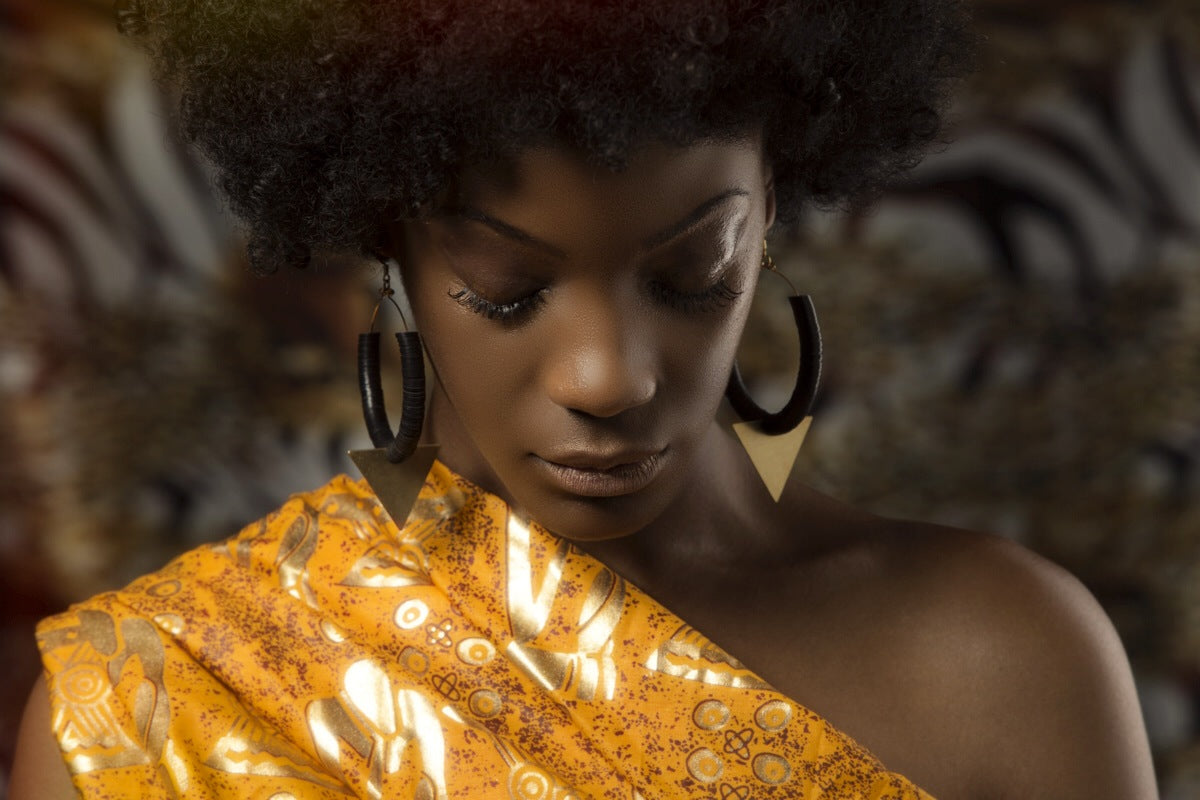 Guided by the belief that arts inspire community and culture, we are pleased to introduce you to our friends @84Gem whose AfroCaribbean 'ethnic, exotic and regal' jewelry is fit for a Queen.  For the entire month of February you can purchase a very limited edition of the #ShesRoyal bundle which includes a pair of black @84Gem Ife Hoops, our signature #IAMCARIBBEING GOLD ON BLACK DENIM TOTE and a Royalty pin for $65.  
CARIBBEING: Describe yourself in 10 words or less?
84 GEM: I'm a calm, easy going person.  I get along with almost anyone.
CARIBBEING: Tell us your story...(How did you get to where you are today)?
84GEM: My love for beautiful statement jewelry has gotten me to where I am today.  One day I just purchased materials to play around with to make my own pieces to wear.  It wasn't until friends and family members asked about purchasing them that I decided to turn it into a business.  I didn't have any previous jewelry making experience.  I just wanted to make things that I wanted to wear.
CARIBBEING: What is your earliest Caribbean memory?
84GEM: My earliest Caribbean memory is going to work with my dad.  He worked as a lifeguard at a hotel in Kingston, Jamaica.  I would just play at the pool all day. I was probably about 3-4 years old.
CARIBBEING: What does it mean to you, to be of Caribbean heritage/descent?
84GEM: To be of Caribbean heritage to me means having many beautiful cultures merged into one.  In Jamaica, our motto is 'Out of Many One People'.  We descend from many cultures and traditions but we are all the same.  I love my culture and wouldn't trade it for anything else.  The food, the smells, the holiday traditions, the language and lingos we have amongst each other are what make us so special.
CARIBBEING: How do you believe your work is influenced by your Caribbean heritage and where you were born/raised?
84GEM: I would say that my work is heavily influenced by the Afro part of my heritage.  From the shapes and materials down to the names that I choose for each piece.  It's all intentional to make the wearer feel like a Queen.
CARIBBEING: How do you feel your work has impacted the communities that you are apart of?  How do your communities support your work?  
84GEM: I feel my work has introduced a new look to what's already existing.  My pieces easily fit into the African Diaspora and Caribbean communities.  Being a part of different pop ups, local events and collaborations with brands like Caribbeing help my own brand to reach even further into the community.
CARIBBEING: What is your favorite Caribbean person/place/thing?
84GEM: So hard to pick one but it has to be the music.  Hearing Caribbean music just puts you in a certain mood.  There are certain songs that I hear that bring me back to little moments in my past.  Like hearing Beres or Bob always takes me back to Sunday's when oldies were playing in the house.  The old tunes are the best.
CARIBBEING: What's something most people don't know about you?
84GEM: I'm very much introverted.  I never figured this out until about 8 years ago and since then I've been unapologetic about it. I love my alone time and enjoy my own company.  After being around people for long periods of time, I literally have to remove myself and recharge.
CARIBBEING: What is your favorite Caribbean saying?
84GEM: My mom always has the best sayings.  She was old before her time.  Even to this day she will say something that I've never heard and it will have me cracking up.  My favorite though which I'm sure all Caribbean children heard growing up is "Who cyaa hear mus feel".
CARIBBEING: What are you listening to?
84GEM: Ironically I've been listening to a lot of old school reggae.  So Beres, Sanchez, Buju, Capleton, Bob Marley, Sizzla for example.  Afrobeats have completely won me over.  It's the perfect fusion of cultures.
CARIBBEING: What is the last country you visited or next country you are visiting?  
84GEM: I visited Turks & Caicos at the end of January.  I was biased that Jamaica had the best beaches but Turks changed my mind.
CARIBBEING: What does caribBEING mean to you?
84GEM: To me CaribBEING literally means to be of or embodying the Caribbean culture.
Follow Kimone