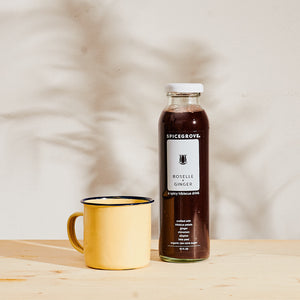 CARIBBEING|connection: Spicegrove Roselle
Made with no preservatives or artificial flavors, this one of a kind Roselle+Ginger hibiscus drink is a revolutionary take on Caribbean Sorrel. We are happy to introduce @spicegroveroselle!
CARIBBEING: Describe yourself in 10 words or less?
Spicegrove Roselle: I practice living in the now everyday!
CARIBBEING: Tell us your story...(How did you get to where you are today)?
Spicegrove Roselle: I started making my mother's sorrel drink about 6 years ago for friends and family during the Christmas season because it was hard finding good sorrel on the market. As time went on, I realized I wanted to do something different so I starting tweaking my mother's recipe and eventually wrote my own recipe, the response was overwhelming! People loved the refreshing twist I put on the drink and they began not just asking for it during the holidays but ALL THE TIME! I was encouraged by my so many people to work towards putting it on the market. I embarked on a quest to make a bold drink. A drink that was more robust, herbaceous but still had an authentic taste. I believe I have accomplish this goal in my Roselle + Ginger. I officially launched in April 2018 and currently the drink is sold in over a dozen locations in the NY/NJ and West Palm Beach, FL. The unsweetened version will be coming in early 2020!
CARIBBEING: What is your earliest Caribbean memory?
Spicegrove Roselle: I spent my formative years on our family farm (Spicegrove) in rural Jamaica what we call country! I was fortunate to have so many natural and beautiful resources! I would chase chickens, feed pigs, goats, cows, ride donkeys, horses, pick mangoes, oranges, sweet sops, guava and other fruits right from the trees. The freedom of living on the land and being able to share with others in our communities as my parents did stays with me till this day!
CARIBBEING: What does it mean to you, to be of Caribbean heritage/descent?
Spicegrove Roselle: Coming from a place of pride, strength, resilience, commitment, family & love has helped to mold the person I am today! I'm so proud to carry our legacy of strong beautiful people where ever I go!
CARIBBEING: How do you believe your work is influenced by your Caribbean heritage and where you were born/raised?
Spicegrove Roselle: The beverage is a revolutionary twist on the sorrel drink I grew up with. The name Spicegrove came from my little rural farm I wanted to share a piece of my heritage in this product as it truly shaped who I am today.
CARIBBEING: How do you feel your work has impacted the communities that you are apart of?  How do your communities support your work?  
Spicegrove Roselle: Since being on this journey I often see how I've inspired others. I often encouraged them to work towards their goals. People are excited about the product and we all know how much pride we all take in making sorrel especially at Christmas time so it's truly awesome when people buy and serve my drink instead of making their own! Or when I hear people often tell me how magically this drink is!
CARIBBEING: What is your favorite Caribbean person/place/thing?
Spicegrove Roselle: My favorite Caribbean person is Dr. Jean Dixon, favorite place is Jamaica, and favorite thing is my reggae music!
CARIBBEING: What's something most people don't know about you?
Spicegrove Roselle: That I'm an awesome cook!
CARIBBEING: What is your favorite Caribbean saying?
Spicegrove Roselle: one one coco full baskit
CARIBBEING: What are you listening to?
Spicegrove Roselle: Always listening to the universe. As far as music nothing in particular since I listen to what I'm in the mood for.
CARIBBEING: What is the last country you visited or next country you are visiting?  
Spicegrove Roselle: My little Island Jamaica.
CARIBBEING: What does caribBEING mean to you?
Spicegrove Roselle: Community, pride, strength and legacy
Follow Audrey
---