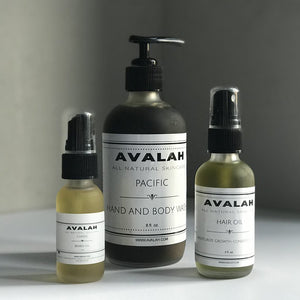 CARIBBEING|connection: AVALAH
Made from 100% all natural ingredients, essential oils and luxurious scents and based right here in Brooklyn, we are pleased to introduce @avalahbeauty!
CARIBBEING: Describe yourself in 10 words or less?
AVALAH: Alexzandra Denis is loving, charitable, innovative, creative, hardworking, intuitive and independent.
CARIBBEING: Tell us your story... (How did you get to where you are today)?
AVALAH: I was born in Brooklyn to a mom who is from St.Vincent. She always used shea butter, coconut oil, jojoba oil, castor oil and salt as part of our skincare regimen growing up. Mom always stayed away from perms, white sugar, processed foods and skin/hair care products that were not necessarily good for us. When I became a young adult I wanted to use what all my friends used which was Bath and Body, so when I had my first job I stocked up. I soon realized that the quality of the products was not giving me the same glow and moisture than what I was used to. In creating my company, I wanted to give people the quality of West Indian natural products with luxury scents and the opportunity to buy in collections.
CARIBBEING: What is your earliest Caribbean memory?
AVALAH: My earliest Caribbean memory is my grandpa in the kitchen after coming back from the market and teaching me how to drink coconut water, eat the jelly and then eating the meat. He then gave me sugarcane and tamarind. It is a fond memory of time spent with my grandpa and getting to learn about my culture. To this day all three foods are my favs!
CARIBBEING: What does it mean to you, to be of Caribbean heritage/descent?
AVALAH: To have Caribbean blood running through my veins gives me great pride. There are customs, dances, foods, drinks, music and values that are in my culture and are exclusive to us. The customs in my household of cooking for Labor day, listening to music and getting dressed up. The respect we teach our children to have for their elders or our hard work ethic are all things that I love about being from the Caribbean.
CARIBBEING: How do you believe your work is influenced by your Caribbean heritage and where you were born/raised?
AVALAH: My entire company is influenced and based on my Caribbean heritage, from the black soap to the shea butter. My favorite part of the weekends as a child was going to the Caribbean markets on Church Avenue and watching my mom shop for products that were going to be used to maintain our hair and skin. She would always have tips on how to naturally take care of ourselves, lemons on your elbows and knees when they get dark, castor oil on your edges and aloe vera on burns. My enter company is based on my experiences as the product of two Caribbean parents.
CARIBBEING: How do you feel your work has impacted the communities that you are apart of? How do your communities support your work?  
AVALAH: My work has impacted the communities that I am apart of through donation, education and career assistance. Avalah has donated product to domestic violence and cancer awareness programs. It is important as I continue on this path that I assist people through their journeys as well. I spend time educating men and women of my community on taking care of themselves by not just smelling nice but by using all-natural products or at least fewer artificial products on their bodies. Avalah currently takes on interns in an attempt to expose young adults to vision, opportunity, fostering relationships, marketing, business etiquette and discipline. I have been fortunate enough to foster amazing relationships in my community. These relationships have supported my work by sending me opportunities to work at events, new product ideas, feedback on social media and marketing. I currently do everything myself so to have people give me feedback or ideas is very helpful.
CARIBBEING: What is your favorite Caribbean person/place/thing?
AVALAH: Favorite Caribbean person is my grandpa because he said a lot by saying a little. He valued hard work, education, entrepreneurship and family. My favorite Caribbean place is Bridgetown, Barbados. I love the sunset from there and try to go 2-3 times a year. My favorite Caribbean thing is mangos. As a kid my mom would go to Brooklyn terminal market and get us a crate. It would be done in less than a week. Also scotch bonnet peppers! I put them in everything.
CARIBBEING: What's something most people don't know about you?
AVALAH: I traveled to a lot of Caribbean islands over the past couple years but I have not been back to St.Vincent since I was a child.
CARIBBEING: What is your favorite Caribbean saying?
AVALAH: Either my mom telling me not to look like a raggamuffin or my stepdad saying mi soon come...... or stop your coming and come...... or my mom asking me if I ate parrot bottom.
CARIBBEING: What are you listening to?
AVALAH: Trust by Buju Banton is currently on replay on my spotify
CARIBBEING: What is the last country you visited or next country you are visiting?  
AVALAH: Barbados was the last. I keep saying I'm going back home to St.Vincent.
CARIBBEING: What does caribBEING mean to you?
AVALAH: Everything. Heritage. Identity. Support. Culture. Love. Hard Work. Community.
---